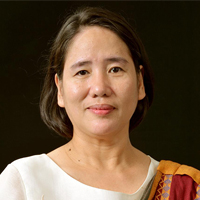 Dr. Ma. Theresa T. Payongayong
University Registrar, Office of the University Registrar (OUR) Diliman
The Office of the University Registrar (OUR), the largest among the offices under OVCAA, is headed by Dr. Ma. Theresa T. Payongayong. She is also an Associate Professor in the Department of Philosophy, College of Social Sciences and Philosophy (CSSP). She holds a doctorate degree in Philippine Studies and master and bachelor degrees in Philosophy cum laude.
Aside from her rich contribution in the field of teaching Philosophy, she has been working as program leader for UP Diliman of the CHED-approved Project for Institutional Development and Innovative Grants, one of the programs under the MOU between UP Diliman and Notre Dame University, Cotabato, since its first phase in January 2017. Among her research interests include feminist philosophy, philosophy for children and ethics.
With her discipline in Philosophy, Dr. Payongayong leads with critical and caring thinking. She was also a member of the Student Disciplinary Tribunal, now Student Disciplinary Council, from 2004 to 2011. She was a College Secretary in CSSP from 2011 to 2014. Then from 2014 to 2017, she was an Associate Dean for Academic Affairs, also in CSSP.
As the University Registrar, together with her team, Dr. Payongayong aims to give quality service in providing better procedures for student admission, registration, and graduation.
To learn more about OUR, you may visit their website in the link below: