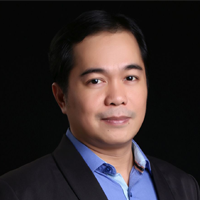 Mr. Chito N. Angeles
University Librarian, University Library (UL) Diliman
Chito N. Angeles is currently the University Librarian of UP Diliman. He is an IT-Librarian – an Information Technology Specialist and a Professional Librarian. He is the pioneer in implementing digitization and digital preservation technology in the University Library. He is also a Senior Lecturer at the UP School of Library and Information Studies (UP SLIS) teaching graduate courses on Information Technology, specializing in database design, web development, systems analysis and design, and digital libraries.
As the former head of the Computer Services Section (now Information Technology Division) of the University Library, he is instrumental in the success of several library modernization projects, namely: the UP Integrated Library System (iLib) project; the Index to Philippine Newspapers (IPN) Online; the Index to Philippine Periodicals (IPP) Online; the Philippine eLib Project; and various online resource databases of digitized personal papers of several Filipino luminaries.
He is also an IT consultant in the field of information systems development and IT applications in libraries. His most notable projects include: the Cultural Center of the Philippines' Library and Archives Online Catalog; development of a Globally Connected Library for Safe Seafaring; development of a MaRC System for INNODATA; establishment of e-Systems in support of Infrastructure Finance in Asia (a project of the Asian Development Bank); the Agriculture and Fisheries Market Information System of the Department of Agriculture; the "Buddyworks" Tele-health and Tele-mentoring system of UP-PGH and DOH; and the Online-Transaction System for Frontline Services (OTSFS) of the Department of Social Work and Development.