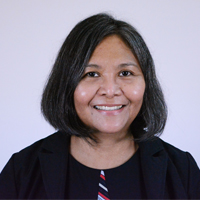 Prof. Rosella M. Torrecampo
Director, Office for the Advancement of Teaching (OAT) Diliman
The newly appointed director of the Office of the Advancement of Teaching (OAT), Rosella M. Torrecampo, is an Associate Professor of the Department of English and Comparative Literature (DECL), College of Arts and Letters, where she earned her Bachelor of Arts degree in English, magna cum laude, and her Master of Arts in Comparative Literature, with her thesis, deemed with high distinction, focusing on the application of Structural linguistics, local history and ethnography in the analysis of folklore. She was an awardee of the RP-US Faculty Development Grant administered by the FAPE-PAEF, Ford-Rockfeller Grant and two consecutive terms for the Betty Go-Belmonte Professorial Chair.
Professor Torrecampo's teaching career spans more than three decades in DECL alone, while serving with the UP Open University (UPOU) starting in 1997 as course writer, tutor, and affiliate faculty concurrent to her assignment in Diliman. She transferred briefly to the UPOU to become full time faculty, eventually becoming Program Chair for the two programs of Diploma in Language and Education and MA Education for a year in 2010 before her transfer back to Diliman and renewing her affiliate faculty status with UPOU.
As among her professional qualifications, she is the first among the only three in UP and the longest Filipino practitioner licensed as English Language Proficiency Examiners of the International English Language Testing System. She has enjoyed since 2001 a license awarded and renewed annually through stringent licensure examinations by the University of Cambridge Local Examinations Syndicate, United Kingdom.
Although Professor Torrecampo is currently at the final stage of finalizing her Executive Doctorate in Educational Leadership at the Graduate School of Public and Development Management of the Development Academy of the Philippines, she is a self-admitted reluctant leader.
"[I am] very reluctant about taking on public responsibility… [but] if I am called, I follow," said Professor Torrecampo. "I believe that leadership can begin from the ground and in the smallest ways, with the least magnitude," she furthered.
But that did not hinder her colleagues from entrusting in her hands some key administrative positions. Soft-spoken but very firm in principle, she was appointed as Assistant University Registrar for UP Diliman from 2011 to 2015. Prior to this, She also served as Programs Development Associate (PDA) for UP Vice-President for Public Affairs and the Office of the Secretary to the University in 1995, and during her stint at the UPOU from 2007-2011, as PDA for the Office of Academic Support and Instructional Services.
On taking up the new challenge of leading OAT, Professor Torrecampo aims to help effect the successful transition of the office into its new, expanded, and enhanced support role to the OVCAA, and focus more on the office's function of furthering development and innovations in teaching, as well as on being more responsive to the concerns that form part of the cycle of the academic life of faculty members.
To learn more about OAT, you may visit their website at: